Chapter 6

Eskdale III - Flow routing

Overland and near-surface water flow can be modelled using DEMs if we assume that surface topography is the sole factor which influences the distribution of water. One very simple model routes all water from a particular grid cell in a DEM to a single neighbouring cell (i.e. water is not partitioned between multiple neighbours). This 'D8' (8 direction) method sets the flow direction toward the lowest of the eight neighbouring cells, in relation to the centre cell.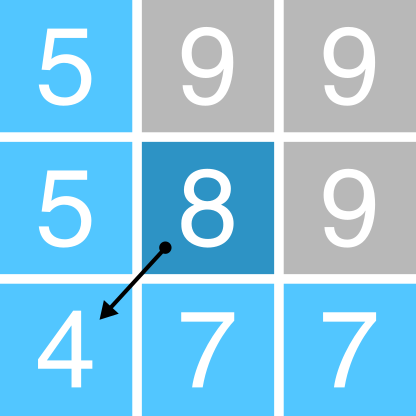 Figure 1: Schematic of the D8 method. The elevation value of the centre cell is 8 m (dark blue). Under atmospheric pressure, water flows to areas of lower elevation (< 8 m; light blue) and does not flow to areas of higher elevation (>8 m; grey). In this case, the D8 method would route all the water from the centre cell into the bottom left cell, as it has the lowest value (4 m).
Using this method, water flow is allowed in one of eight possible directions (↑ ↗ → ↘ ↓ ↙ ← ↖), assuming that water will travel along the steepest downslope path. In turn, the method is sometimes referred to as the steepest descent method. Based on the \(3 * 3\) cell neighbourhood shown in Figure 1, flow would be directed from the centre cell (8 m elevation) to the southwest cell (4 m elevation).
Reminder: you don't have to run every bit of code in this document. Indented text (such as this) is an instruction that tells you something to either think about, or do.
References
Alcalde, J. et al. (2017) 'Framing bias: The effect of figure presentation on seismic interpretation', Interpretation, 5(4), pp. T591–T605. doi:10.1190/INT-2017-0083.1.
Fairfield, J. and Leymarie, P. (1991) 'Drainage networks from grid digital elevation models', Water Resources Research, 27(5), pp. 709–717. doi:https://doi.org/10.1029/90WR02658.
Freeman, T.G. (1991) 'Calculating catchment area with divergent flow based on a regular grid', Computers & Geosciences, 17(3), pp. 413–422. doi:10.1016/0098-3004(91)90048-I.
Geissbuehler, M. and Lasser, T. (2013) 'How to display data by color schemes compatible with red-green color perception deficiencies', Optics Express, 21(8), pp. 9862–9874. doi:10.1364/OE.21.009862.
Grabs, T.J. et al. (2010) 'Calculating terrain indices along streams: A new method for separating stream sides', Water Resources Research, 46(12). doi:https://doi.org/10.1029/2010WR009296.
Hawkins, E. (2015) 'Scrap rainbow colour scales', Nature, 519(7543), pp. 291–291. doi:10.1038/519291d.
Jenson, S.K. and Domingue, J.O. (1988) 'Extracting topographic structure from digital elevation data for geographic information-system analysis', Photogrammetric Engineering and Remote Sensing, 54(11), p. 15931600. Available at: http://pubs.er.usgs.gov/publication/70142175 (Accessed: 2 December 2020).
O'Callaghan, J.F. and Mark, D.M. (1984) 'The extraction of drainage networks from digital elevation data', Computer Vision, Graphics, and Image Processing, 28(3), pp. 323–344. doi:10.1016/S0734-189X(84)80011-0.
Quinn, P. et al. (1991) 'The prediction of hillslope flow paths for distributed hydrological modelling using digital terrain models', Hydrological Processes, 5(1), pp. 59–79. doi:https://doi.org/10.1002/hyp.3360050106.
Quinn, P.F. et al. (1995) 'The in(a/tan/β) index: How to calculate it and how to use it within the topmodel framework', Hydrological Processes, 9(2), pp. 161–182. doi:https://doi.org/10.1002/hyp.3360090204.
Seibert, J. and McGlynn, B.L. (2007) 'A new triangular multiple flow direction algorithm for computing upslope areas from gridded digital elevation models', Water Resources Research, 43(4). doi:https://doi.org/10.1029/2006WR005128.
Tarboton, D.G. (1997) 'A new method for the determination of flow directions and upslope areas in grid digital elevation models', Water Resources Research, 33(2), pp. 309–319. doi:https://doi.org/10.1029/96WR03137.